Our pedagogical project is adapted to the needs of the compagnies that express themeselves in terms of competences, know-how and also the human quality and well being. The encounters with the professionals, internships and the industrial projects are an integrated part in the formation. The study programs are established through the two main domains as follows:
Engineering, in Construction of Components and Systems (ECCS)
Engineering, in Construction of Components and Systems (ECCS)
These programs are characterised by their evolution and adaptation abilities to cope with the innovative needs of compagnies. Also, the after High school formation starts by a two-years integrated preparatory cycle (IPC): contains a common first year to all students and a second year of pre-orientation where we do offer options in the two main domains of our school. By the end of the first year, students are given a basic formation that allows them to continue their studies regardless of the chosen pre-orientation of the second year.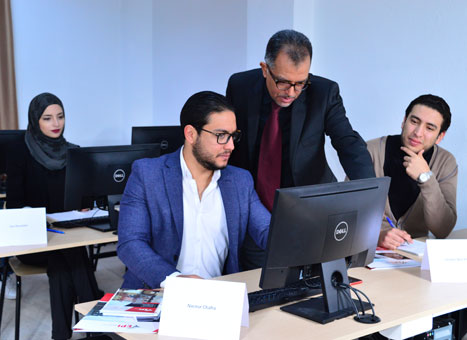 The integrated preparatory cycle allows students to develop skills in an environment of an engineering school and prepares them to join one of the different specialties of EPI-Polytechnique (years 3, 4 and 5). Access to the engineering cycle is based on continuous monitoring.
In order to avoid the very early engaging of students in an irreversible career choice, we have provided re-orientation classes between specialities and we have placed at the very end of each one establishments that help students to enhance their knowledge in a specific theme , keeping a strong base for formation in the original speciality. These establishments can be reached by different means.
Along the engineering corpus of formation, students accomplish their projects (PPE, PFA or PFE) under the supervision of a teacher or a professional. In order to be trained to work through the organisation of of task exchange, students realise their projects in pairs. Every proiject paves the way for a report to be presented in front of a committee.