Since the beginning of the 2020 academic year, the EPI group has formed a partnership with WIS (Web International School) to obtain a Bachelor's degree in the digital project manager's profession.
This partnership offers students the opportunity to start their curriculum at the EPI Digital School and to automatically continue in France for the 3rd year of the Bachelor's degree.
This exceptional program, designed on the basis of dual skills leading to the automatic acquisition of a double degree, trains operational managers in the digital sector capable of working within a company in the support services of digitalization: information systems management, sales management, marketing management and communication.
 
This 3rd year career path allows students to specialize in
Full Stack Development
UX Designer
Data Driven Marketing
 
In parallel with the "Digital Project Manager" course, students prepare the "Digital the "Web and Mobile Web Developer" course, which provides the knowledge and technical skills required to complete a digital project as well as a complete vision of the profession.
 
This course guarantees you :
A double diploma: a Tunisian diploma and a French diploma recognized by the state.
An automatic departure to France for the 3rd year in one of the 9 campuses of WIS (Auxerre, Bordeaux, Grenoble, Lille, Lyon, Montpellier, Nantes, Paris, Toulouse).
A quick and simplified admission procedure.
Reduced tuition fees.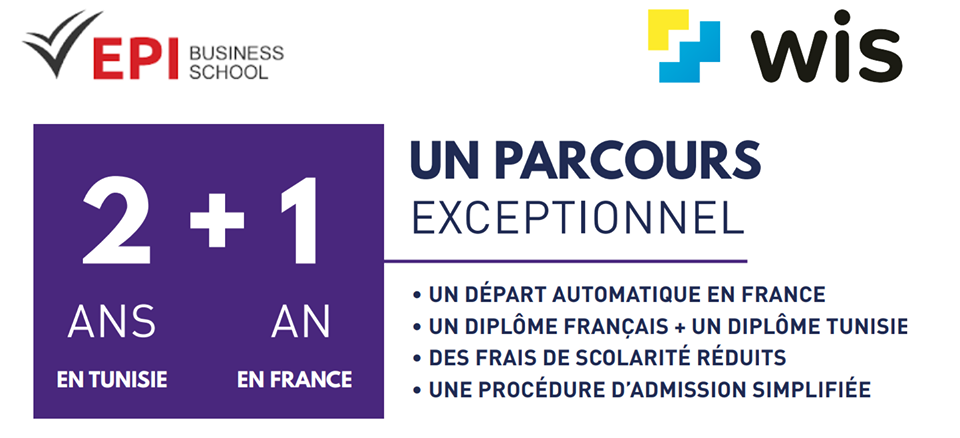 Digital Business core course
Block of transversal skills / Professional development – 60 h
Competence block DEV1 - Design and development of digital web applications - 140 h
Activity A1 - Manage the design and development of web and digital application solutions
UE Front-end Web Development
UE Web Server & Web Page Management
Competency block COM1 - Digital Communication & Customer Relationship Strategy 140 h
Activity A2 - Manage online communication content to ensure customer relations
UE Digital Communication & Social Networks
UE Content creation and management
Competency block MKT1 – Digital Marketing & Data Analysis - 160h
Activity A3 - Exploit and use digital databases to develop digital marketing
UE Marketing & SEO
UE Customer Relationship & Data Management
Competency block PRO1 – - Digital project management - 99,5 h
Activity A4 - Manage a digital project : from the design of the specifications to the performance measures
Professional course
Internship: 4 to 5 weeks VALIDATION OF THE FIRST YEAR
UE Economic and legal environment
UE English & Communication

UE Internship in a company
Parcours socle Digital Business
Bloc de compétences transversales / Développement professionnel & Savoir-être – 56 h
Competence block DEV1 - Design and development of web and digital applications - 140 h
Activity A1 - Manage the design and development of web and digital application solutions
UE Front-end Web & Mobile Development UE Web Design and Experience
Competency block COM1 - Digital Communication & Customer Relationship Strategy - 160 h
Activity A2 : Manage online communication contents to ensure the relationship with Customers
UE Content Creation and Management
UE Digital Customer Relationship Strategy
Competency block MKT1 - Digital Marketing & Data Analysis - 120 h
Activity A3 - Exploit and use digital databases to develop digital marketing
UE Digital marketing web and mobile
UE Data Management & Databases
Competency Block PRO1 - Digital Project Management - 123,5 h
Activity A4 - Manage a digital project: from the design of the specifications to the performance measurements
UE Legal Environment and Project Management
UE English
UE Communication & Expression Techniques
Professional course
UE Internship in a company
Internship : Internship of 6 to 8 weeks VALIDATION OF THE SECOND YEAR
Digital Technology course
Block of competences 1 - Front end development of a web or mobile web application mobile application - 60 h
Competency block 2 - Back end development of a web or mobile web application - 100 h
UE Web Development & Data
Digital Business foundation course
Competency block 1 - Analyze and frame the customer's digital needs - 90 h
UE Needs Analysis & Digital Innovation
Competency block 2 - Back end development of a web or mobile web application - 90 h
UE Production start-up & Project management
Competency block 3 - Accompany, improve and optimize the customer journey with digital using digital technology - 90 h
UE Customer Journey Optimization
Competency block 4 - Implementing a technological and digital watch - 54.5 h
UE Digital watch & Communication in English and French UE Workshops
UE Workshops Certifications
Transversal skills block / Professional development - 65h
Specialization courses (choice of courses)
Competency block 5 - Full Stack Development - 100 h
A5 - Front-end and back-end development of web and mobile interfaces
UE Client-server environment
UE Client-Server Application Development
Competency block 6 - UX Design - 100 h
A6 - Design and optimize the usability of web and mobile interfaces oriented
UE UX-centric design
UE Design Conception
Competency block 7 - Data Driven Marketing - 100 h
A7 - Optimize and develop the personalized customer experience by exploiting digital databases
UE E-marketing strategy
UE Data driven strategy
Professional path
UE Internship or work-study in a company